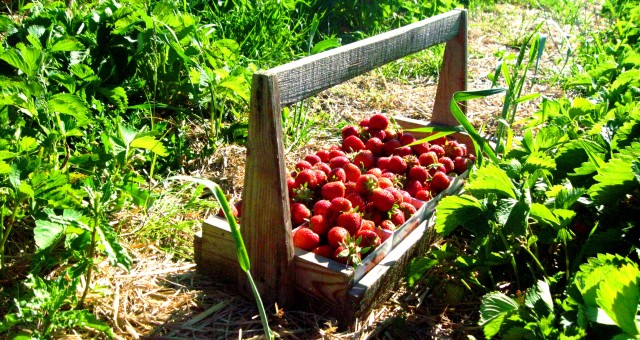 The taste of summer. Grow your own!
It's almost July and that means Strawberries and lots of them. Add in some with cream and I'm in heaven. One of my favourite past times growing up in the summer was visiting the local pick your own place. Not only was it fun, but we always wanted to see who could find the biggest strawberry. Of course you have to sampling one or two of them while you're there! Many local pick your owns now offer more than just strawberries with blueberries, raspberries and other such crops and jams often on offer in the summer months. Farmer don't normally object to you sampling the odd one or two that might not make it to the box.
I've tried growing stuff over the years with lots of success, although strawberries have always failed me.
There is a growing community of people who are taking grow your own one step further and getting themselves an allotment. Gone are the days when it was only the retired men in flat caps trying to escape his wife for a few hours. Allotments are turning in to a hot commodity, with TV shows like River Cottage making them the eco friendly way to grow food. As people realise that growing their vegetables themselves means they're free and it's pretty easy once you have learn't the basics, allotmants are in high demand.
Such is the demand for land to grow your own, that farmers across the UK are actually no longer using some of their less profitable fields for crops but instead turning them into allotment sites which you can then rent by the year. Some local councils have waiting lists for allotments with a 3 year wait.
Think again if you thought allotments are filled with tatty old shed, the competition between allotment growers is fierce. With posh sheds now available at great prices, you can have a heater, kitchen and other home comforts. Allotments have got so stylish that the BBC even did a programme on it, Allotment Wars which saw couples battle it out throughout the year to grow the best flowers and veg.
Grow you own is definitely something I'm going to try again in the near future. In the mean time my father in law is producing more veg on his allotment then he knows what to do with, so we wont go hungry!