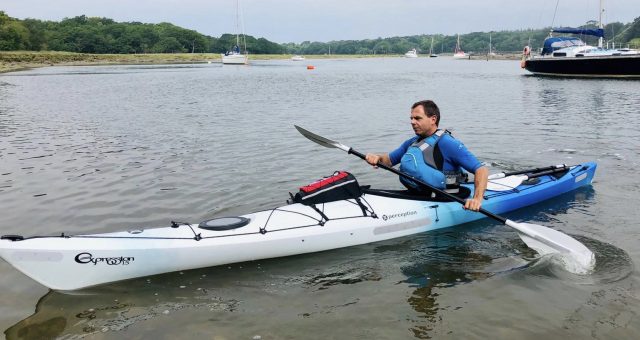 Perception Expression 15 with EXP Backband
My first Sea Kayaks……..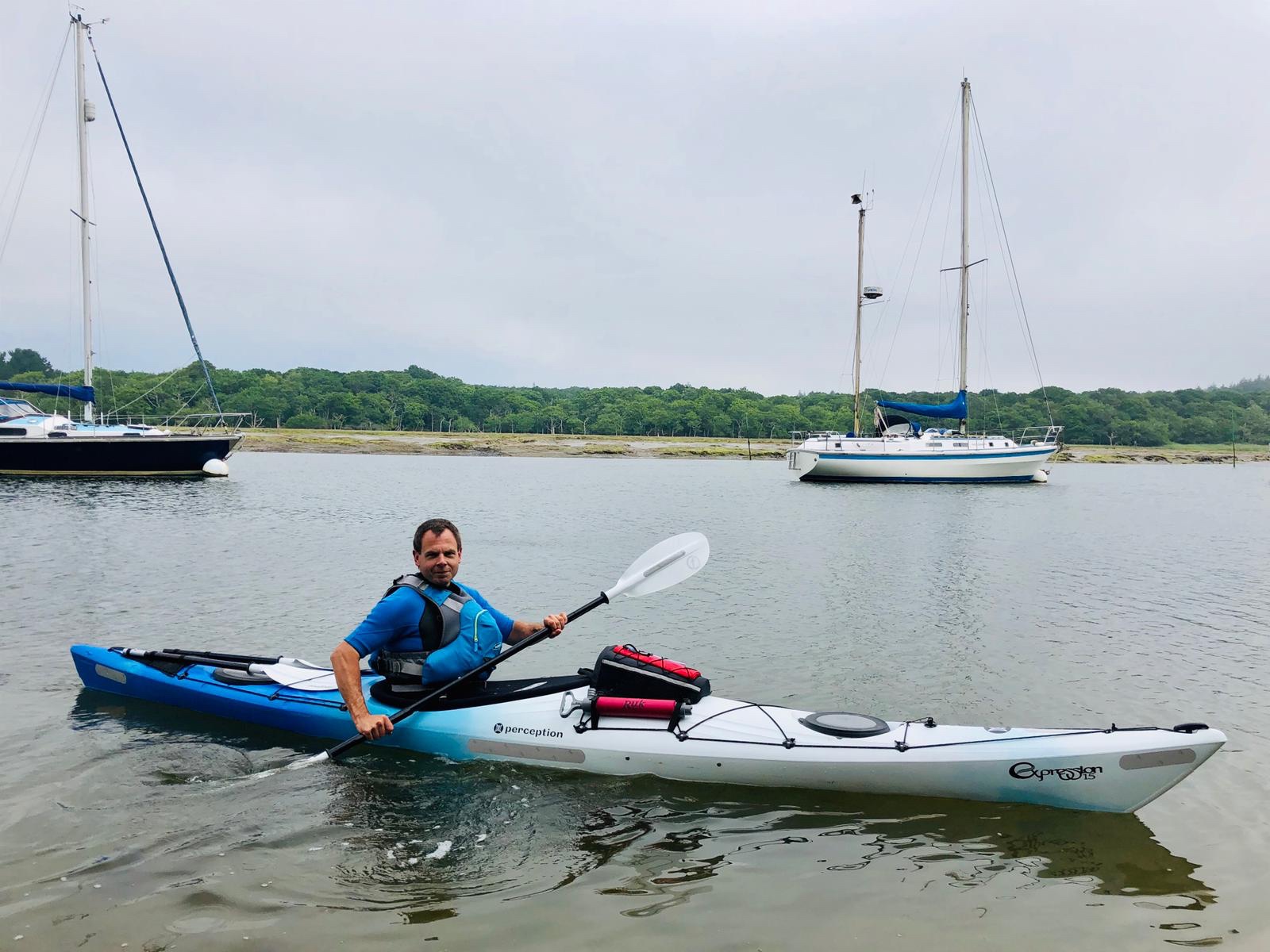 Perception got this one spot on! I'm no expert or seasoned kayaker but to me the Expression 15 is a sporty, fast & fun touring style kayak. The kayak feels responsive yet still manages to retain a solid friendly feel. The Expression 15 feels very stable and not tippy, even my girlfriend who had never been in a kayak found it stable and instilled confidence.
I purchased the Expression 15 which is the larger of the two Expressions, the 14 being the other. The Expression 15 gives bigger paddlers (I'm 6'1" and about 13.5 stone, 86kg), a comfortable tourer that excels in most water conditions and still has capacity to carry your day or over night gear in good sizes storage compartments.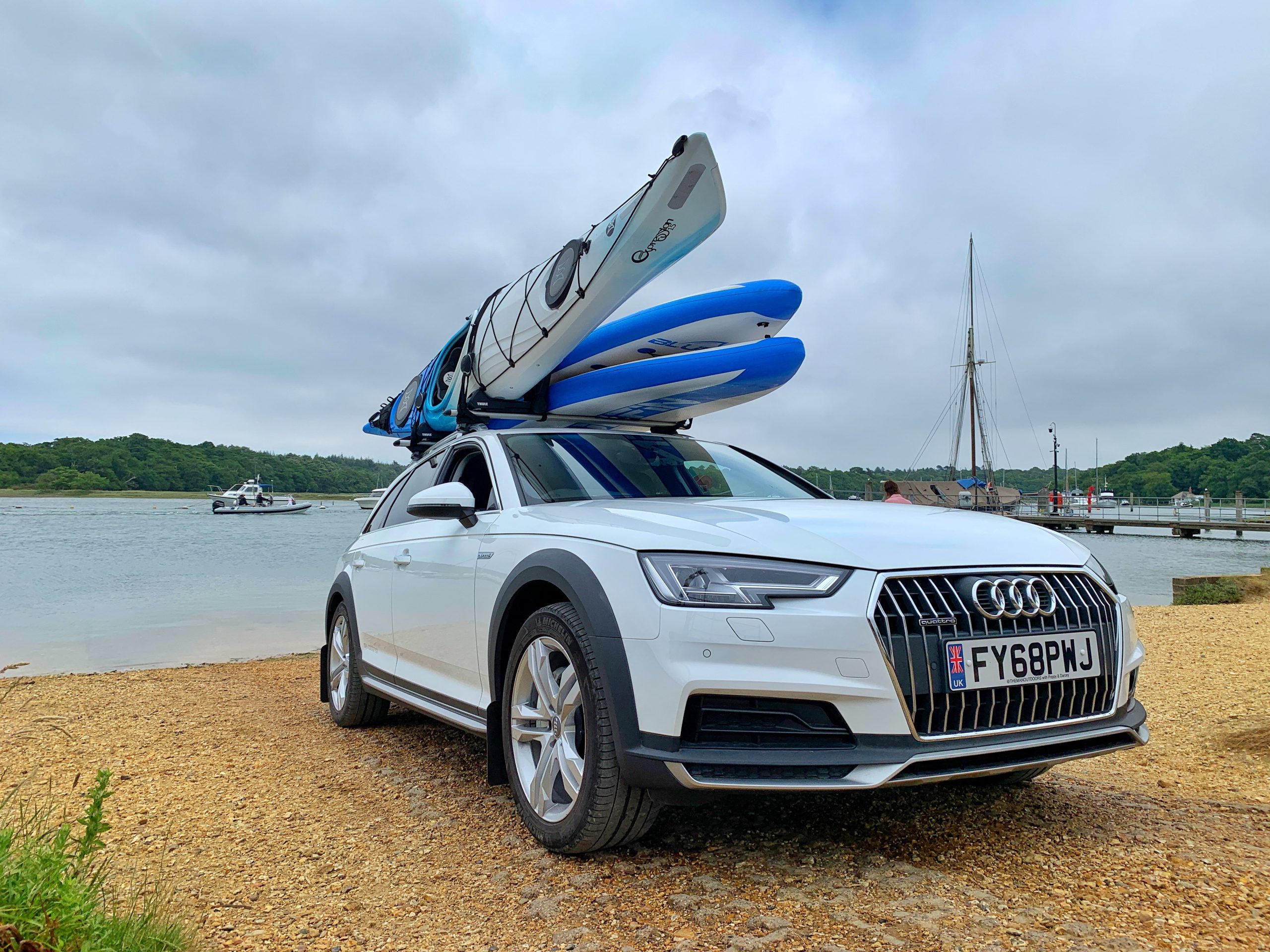 The Expression is a great choice for paddlers looking for a boat that can handle short multi day trips. However I also wanted a kayak that is compact and fun enough to paddle for quick exercise runs up and down my local canal, river or down on my favorite piece of coast line.
Another consideration when buying was the physical size. I wanted a kayak I could load on my car on my own. Having owned a Venture Prospector 155 Canoe previously, there was no way I could really load this on my own without the fear of smashing it against the roof of my car in the process, especially on windy days. The Kayaks also needed to fit in my garage for storage, this is only 16ft long. I made the choice of plastic over fibreglass early on in my research, I tend to visit it rocky and stoney, so I wanted a robust hull to handle stoney beaches.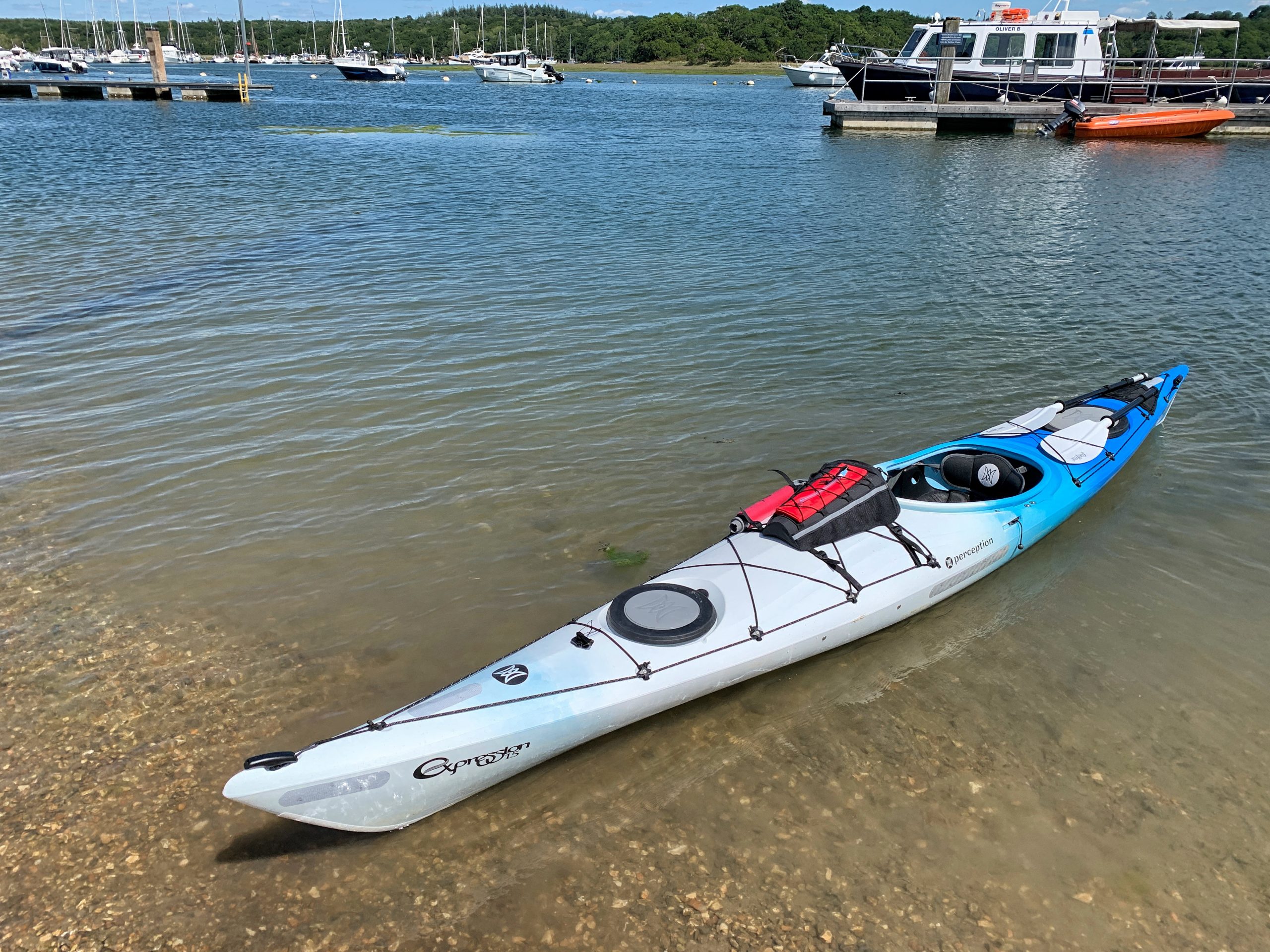 It sounds silly, to some maybe, but colour was also a consideration. modern kayaks come is all sorts of bright colours, purples, orange, yellow, multicolour. When it comes to colour I'm very picky. You may notice Blue and White appears a great deal in my life and on this website!
What Perception say :
Scenic lakes and coastal swells can be equally exhilarating… no matter where your aspirations lie, if you want to experience them to the full, the new Expression range will take you there. Packed with charisma and boasting exceptional traits for kayaks of their size, they'll fuel your passion for paddling with fast acceleration and an impressive top speed. Maximum forward efficiency is balanced with responsive control which will inspire you to explore new waters.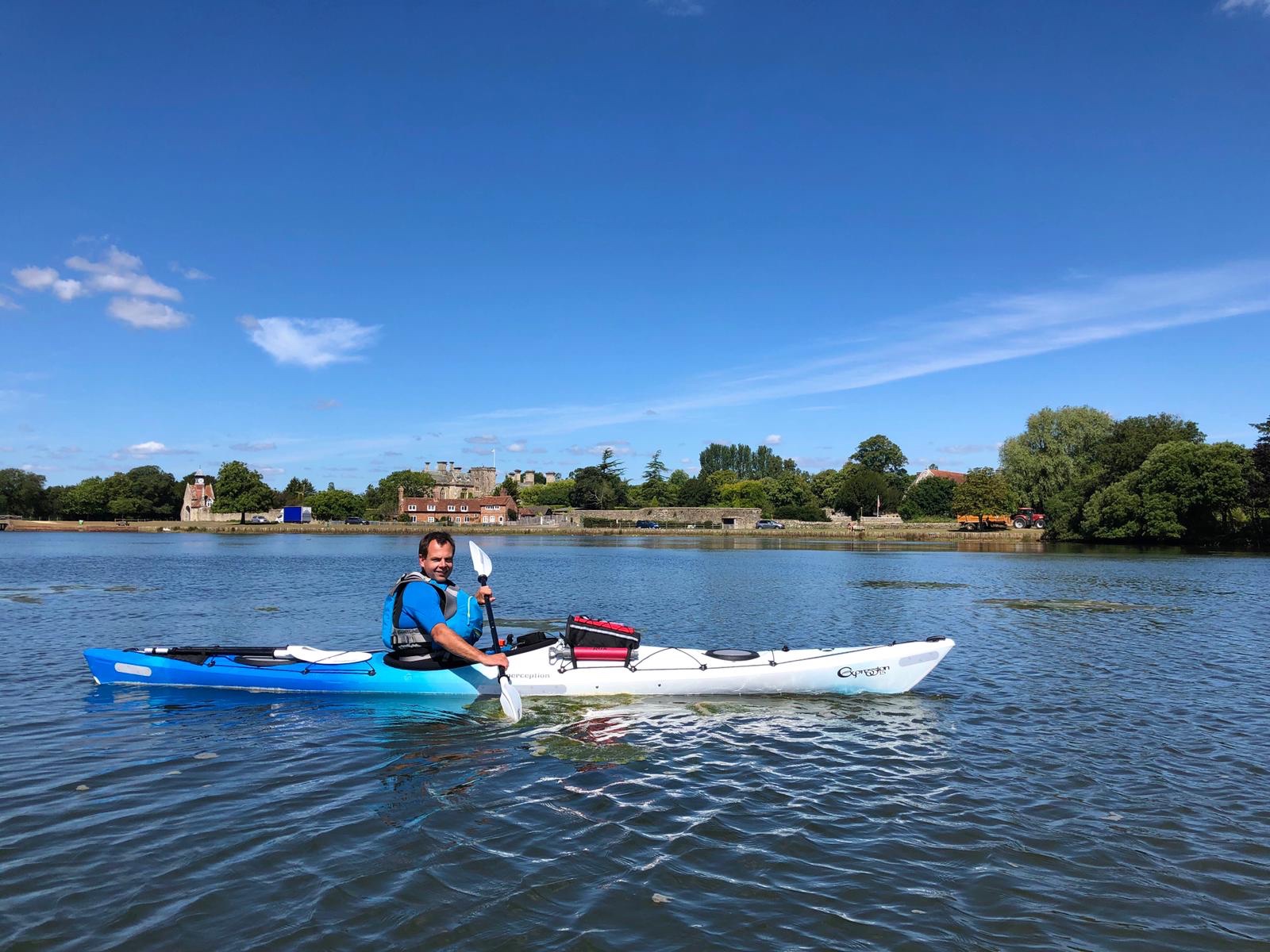 Graceful and stylish lines immediately catch your eye and it's not just the looks that are stunning. The complex hull delivers true tracking and speed from a strong V-shape at each end with a shallow-V running between. A smooth rocker and rounded chines give free flowing movement when needed for quick turns or agility in the surf. Careful volume distribution combined with the hull dynamics provide initial and secondary stability to match the boats striking capabilities. With an upswept, flared bow the Expression revels in the chance to cut through chop and ride the waves.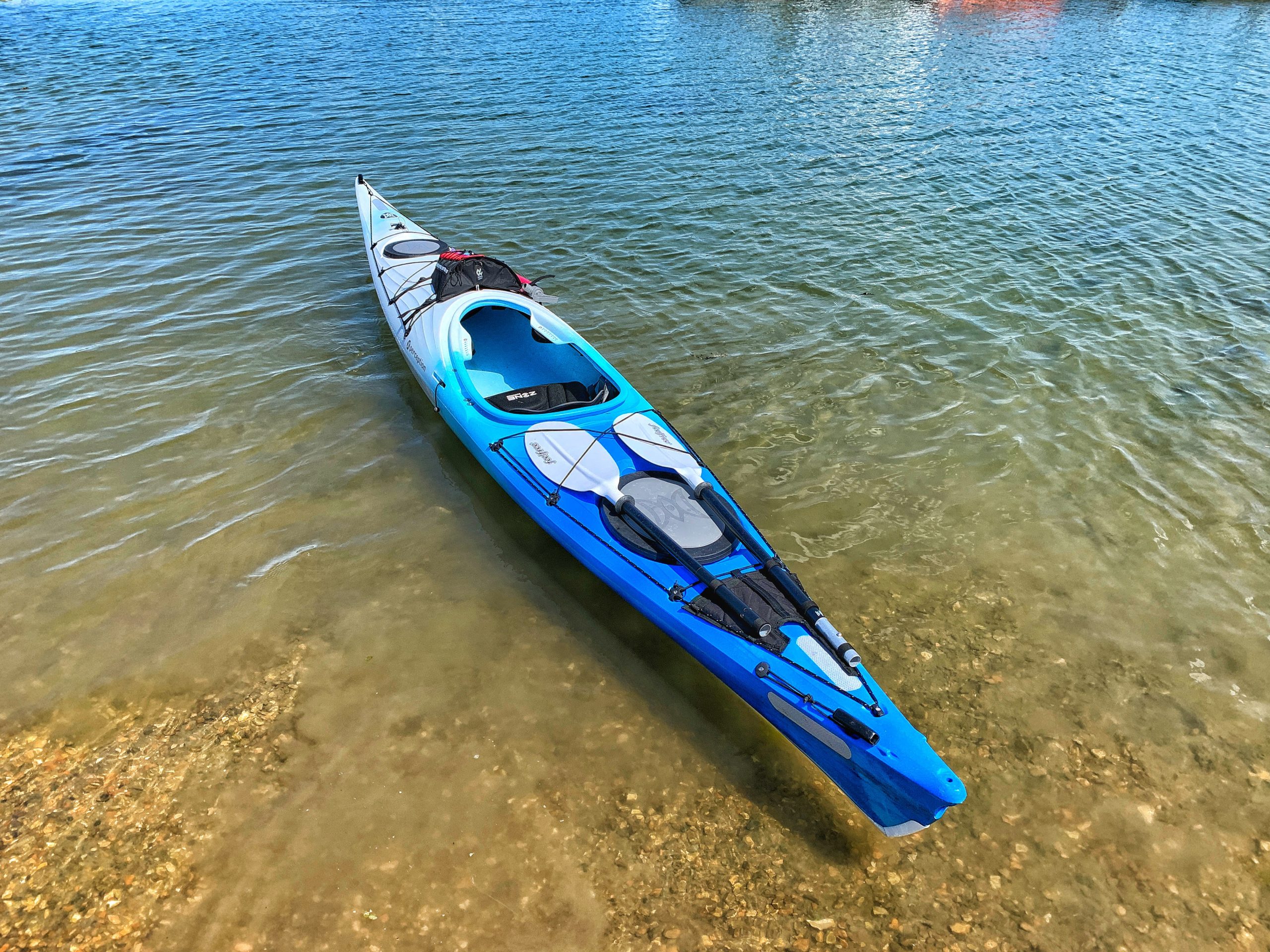 The Expression 15 has a touch more length and volume than the Expression 14. This gives more space and forgiveness for average to large paddlers and carries heavier loads without compromising on its handling abilities.
Whether wishing to hone your skills or exploit its sporty nature, the Expression series will keep exciting you for all those adventures still to come.
Specs:
Length: 456 cm / 15′
Width: 61 cm / 24″
Max Capacity: 140 kg / 308 lbs
Deck Height: 35 cm / 14″
Weight: 26 kg / 57 lbs
Cockpit Length: 89 cm / 35″
Cockpit Width: 49 cm / 19″