Kayak Buoyancy Bags are designed for filling the front or rear chambers of a sea kayak or touring kayak, if you do not have any gear inside them.
There have been many stories of people out for the day in their kayak, but not out on an expedition, so their main storage chambers are empty or only partly loaded. If your kayak has internal bulkheads front and rear of the cockpit, then you can images your kayak split in to 3. Front chamber, cockpit, rear chamber. When empty or only partly loaded the front and rear chambers count for 2/3rd's of your buoyancy.
Buoyancy bags will help keep these chambers buoyant if the boat should spring a leak or you accidentally crack the hull on a rock or it you damage ot loose a hatch cover in waves and surf.
The kayak air bag is inflated by blowing into the tube with a simple twist nozzle to seal or release pressure. You can keep it in place using a bungee, or cord by threading it through the eyelet holes to stop it moving. The bags themselves only weight 150-400grams depending on size. The Lomo Buoyancy bags I use are size 14. On just day trips I have one in both my front and rear storage chambers.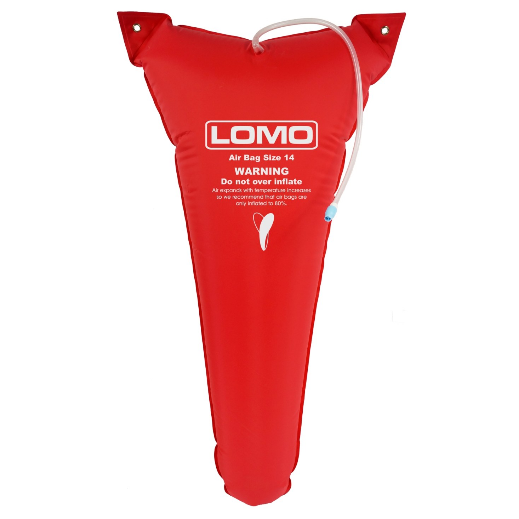 Dimensions:
Airbag Size 14 (when uninflated and lying flat)
62cm (Width at widest point) x 111cm Long
Airbag Size (when inflated)
54cm (Width at widest point) x 103cm Long x 29cm Deep
Weight: 300g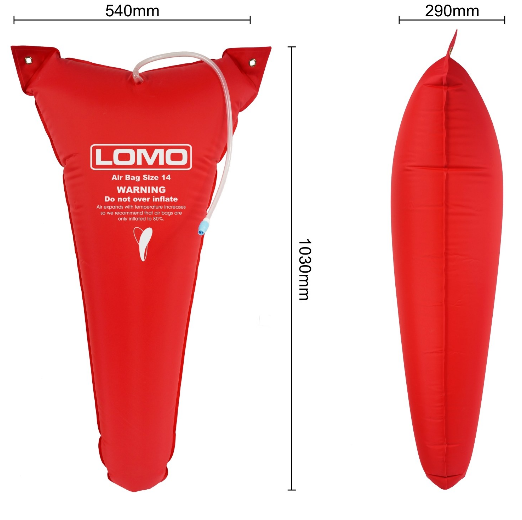 The buoyancy bag is best inflated once placed in the main hatch, otherwise you may not get them through the opening.
I have heard of people critizing me about it being a bit of an over kill, especially in a plastic kayak. Well let be tell you this; I owned a Fatyak 2 man sit-on-top a few years ago (review and full story is on this site). This was a plastic rotational mould kayak, well it sprung a leak due to very poor manufacture, the plastic was very thin within the skupper holes and two split, filling the inside of the kayak with water while my girlfriend and I were out on Lake Windermere in the Lake Distict. It fill with water in under 2 mins and sank close to shore luckily.
So from this experience, I now take safety and equipment very seriously. I'm not having this happen to me or my girlfriend again.
PLEASE PLEASE check and DOUBLE check all equipement, no matter what brand you have, before going on the water. Even a product like a Kayak which you just look at as a big lump of plastic, can be faulty or become faulty over time with wear and tear. I learnt a very valuable leason myself on water safety from this experience.
Please keep safe on the water.