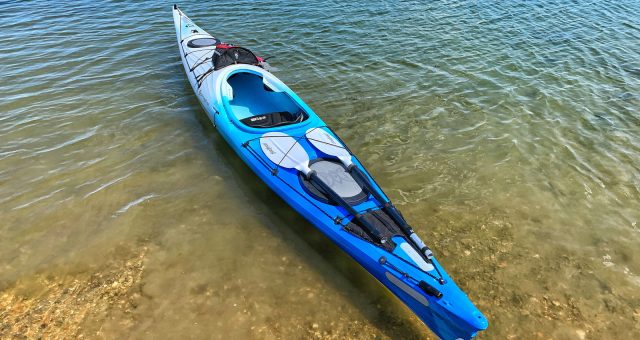 Guide 5 – What to take kayaking?
Whenever we head out for a paddle it is of utmost importance that we take the right equipment, not only for our comfort, but also for our safety, and the safety of others.
Equally, we don't want to be weighing our-selves down with extra equipment, rattling around in our boat, and causing us extra work. But, if we do pack our boat full of equipment, where do we put it all? The last thing we want to do is empty our entire boat on the river bank to get out our squashed sandwich!
So, what do we take, and where do we put it?
In this guide I will be sharing my personal advice to make carrying equipment hassle free. Like everything in kayaking, it is specific to what we are doing and where we are going. Listed here you'll find the basic kit I always take out on the water with me.
Buoyancy Aid
The most important piece of equipment that we would recommend you to wear is a Buoyancy Aid (BA). No matter how good a swimmer you areor think you are, a BA is imperative, no excuses! Not only is it useful when swimming about in the water, but it helps keep you buoyant for self rescues and peer rescues, as well as keeping you warm. In my mind, wearing a BA is just as important as wearing a seat belt in a car, an accident might not be your fault, but an injury could be!
Check out the biuyancy aids I use below.
Cagoule
They come in all shapes and sizes. Spray tops, semi-dry and full dry tops. Specific to the environment, you can get some with hoods and fleece pockets for sea and touring, and short sleeves for Summer paddling.
Wetsuit
A good way to start, keeping you warm and relatively inexpensive. The 'long-john' style suit keeps the warmth in, but stops friction and rubbing under the arm or around the neck for a more comfortable trip.
Drysuits
Pricy but worth it if you're in the water a lot! A full body submersion suit with latex seals around your wrists and neck. They keep you dry and warm, no matter what the elements throw at you. These are also available as trou-sers with the same latex system. They work well with a good cag.
Base Layers
Rash vests or thermal layers are brilliant for this. Made of a synthetic material they wick away the moisture from your skin to keep you warm, even when wet. Wool is great too but doesn't dry as fast and is cold when wet.
When there is a chance of injury, a helmet is a must; it also helps to keep you warm!
Spray Deck
Made of nylon or neoprene. A beginner would suit a nylon deck that doesn't stretch. This makes exiting the boat a lot easier through pulling off the deck with the grab handle or kicking with the knees. Neoprene fits a lot better, and it is possible to Eskimo roll without any water seeping through, but, if you want to exit you have to pull the grab handle to get the deck off.
Footwear
Something sturdy you can scramble about on the riverbanks with, as well as, rocks and coastlines, but importantly, not too big and bulky or they get stuck in the boat. Wetsuit boots are a good start. We lose lots of heat to the ground so thicker soles are better in the Winter.
Headwear
When there is a chance of injury, a helmet is a must; it also helps keep you warm! Definitely worn for white water and freestyle kayaking, but for sea and touring it is a personal choice – though you'll only hit your head once!
First Aid Kit & Safety Gear
A small first aid kit is a great idea. We need to be able to sort people out who have cuts and bashes during a trip. A spare hat and gloves to keep you warm, and an extra fleece in case you get cold over lunch or after a swim. Also a group shelter is a great way to keep warm and is a bright colour to attract attention if you need it.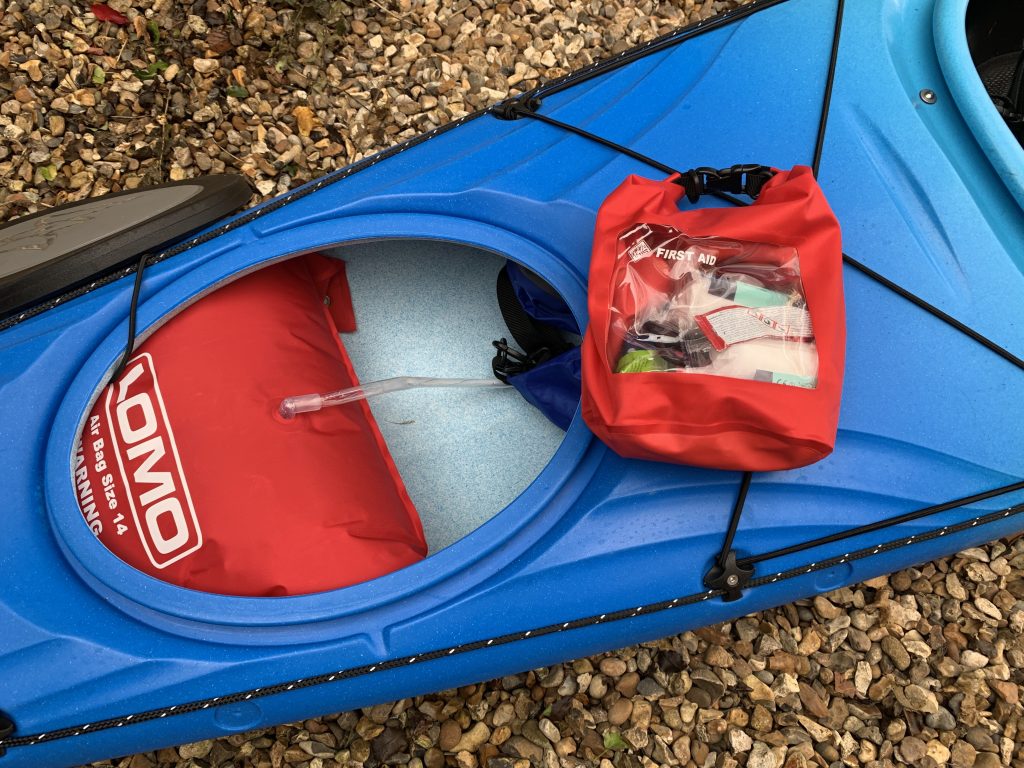 Food & Water
Even if you're out for a couple of hours, a bottle of water and a chocolate bar can make the difference to give you that last bit of energy on the trip home. Hot drinks in flasks in cold weather are a great way to help keep you warm even if you have a swim.
Means of Contact
Everybody has a mobile phone. You can get some great waterproof bags to put them in, and most of them work through the bag. Always tell someone when you are going out and when you will be back. Having a phone on you means you can always call to say you will be late because you are having too much fun out on the water. But also means that if you need extra help, you can call someone in an emergency.
If you are going along coastline and remote coves I strongly recommend investing in a handheld Marine VHF Radio. The Coast Guard can pin point the location of a VHF signal. VHF will also broadcast where mobilephones may be without signal, more example near cliffs or in a cove. Channel 16 VHF (156.8 MHz) is a marine VHF radio frequency designated as an international distress frequency. Primarily intended for distress, urgency and safety priority calls. If you are going to do alot of coastal touring are VHF Radio User Course is worth every penny.
How to Pack
Dry bags are a great way to keep things dry in your boat even if you capsize; as long as you make sure you do them up properly and attach them to your boat. Lots of small bags are better than one big one as you can squeeze them in and around the gear in your boat.
Where to put the weight? – You want an even spread in your boat, so as not to affect your paddling. In sea kayaks the rule of thumb is to put most of the weight in the front of your boat. This will help with tracking and the control of your boat.
Where do my sandwiches go? – Pack with common sense. Most sea kayaks have a day hatch and this is great for those objects you want to have to hand quickly, like chocolate bars, hats and flares. In white water boats you are more limited on space, so think about what you will need quickly.
Dry bags are a great way to keep things dry in your boat even if you capsize.
Spare Paddle
Just like a spare wheel in your car, if you break one, you can't go anythere. Paddles can break, snap or be lost in a capsize. Have a 2-part paddle spare on your deck is that spare wheel that will allow you to get home under your own steam and not call for help or rely on others. It's such a simple thing but something I see time and time again people not even think about.