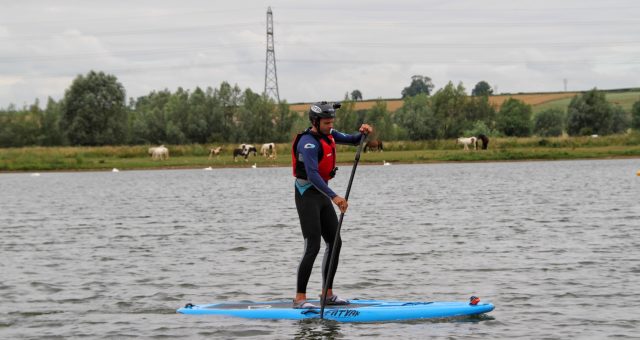 Fatyak Samos (SUP) Stand Up Paddle Board Review
The Fatyak Samos (SUP) stand up paddle board is aimed to bridge the gap between inflatable and epoxy SUP Boards already on the market. Concentrating on robustness, stability and easy of use the Samos is perfect for the budding and novice paddler and ideal for rental users.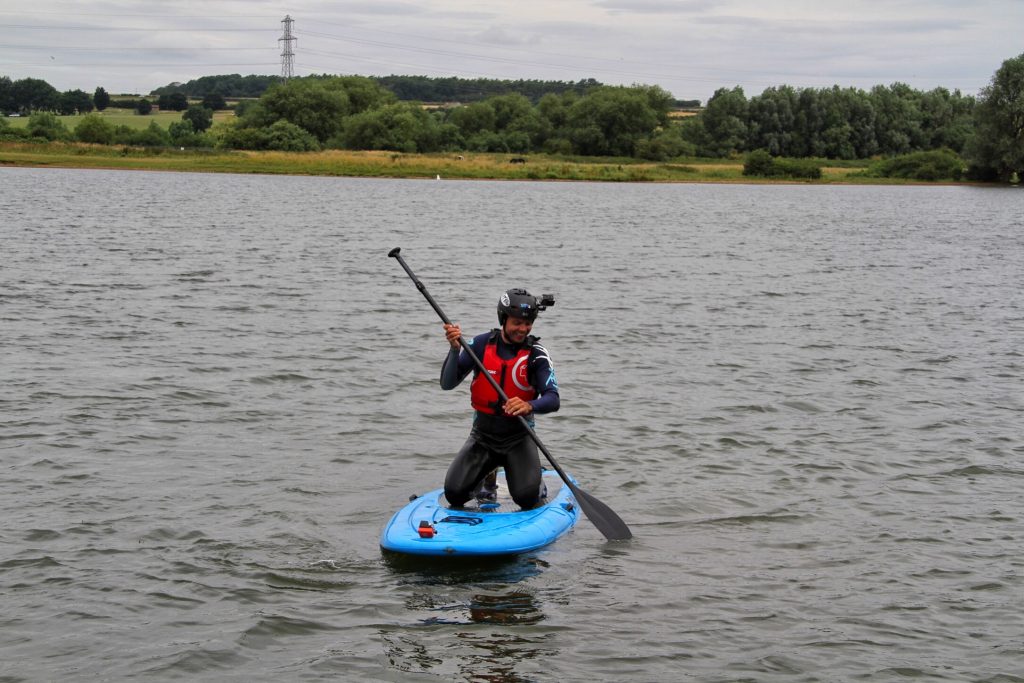 Each board is manufactured to Fatyak's high quality rotational moulding standards. Using this process with no seams and no joints the Samos is manufactured using very high grade, high density UV stabilised polyethylene and made in Somerset, England. This method of manufacture means that you have a tuff product that can handle years of abuse from the family, being dragged up beaches, loaded on your car etc and will not fade.
Weighing in at just 20kg, one adult or 2 kids can easily carry the board on dry land. There are bolted on handles each side and one on the rear. There is also a large moulded in handle on the front and in the centre deck, which is great for carrying and remounting in the water.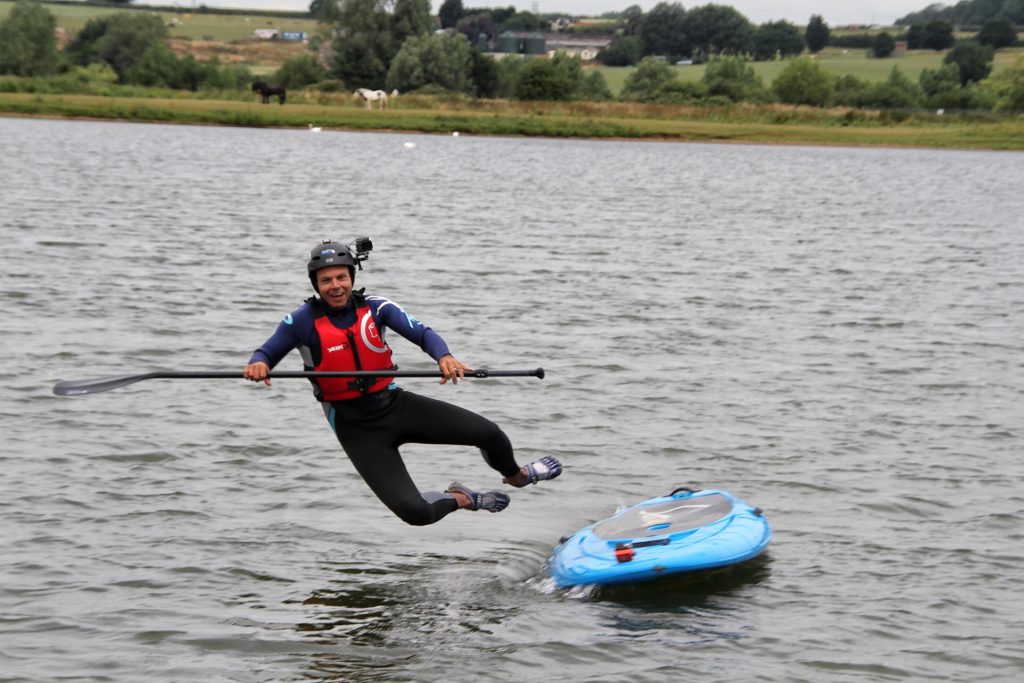 I have never paddle boarded before trying the Samos. I had tried surfing about 10 years ago for a weekend in Newquay. Starting out I just kneeled on the board, first impressions of it's stability was very impressive. I could happily rock the board from side to side with no fear of it flipping over. On the day, I was with my brother who had his jetski. We did a number of experiments of him circling me creating some pretty choppy water, which the board handled very well, both kneeling and standing.
My first attemped at standing on the board, I was sure was going to end with a splash! However to my surprise from kneeling to standing was pretty easy and I don't have great balance. Getting underway, the suppled paddle is light and comfortable to use. Once you get some forward momentium the board tracks very well, thanks to the unique wishbone moulding in hull design which channels water. This means you don't have to keep swopping sides with the paddle. The Samos also comes with a Fin box – interchangeable with Longboard/SUP market standard Fins. This helps tracking in a straight line. I hope to get this board in to some surf this year which is where the fin will really help.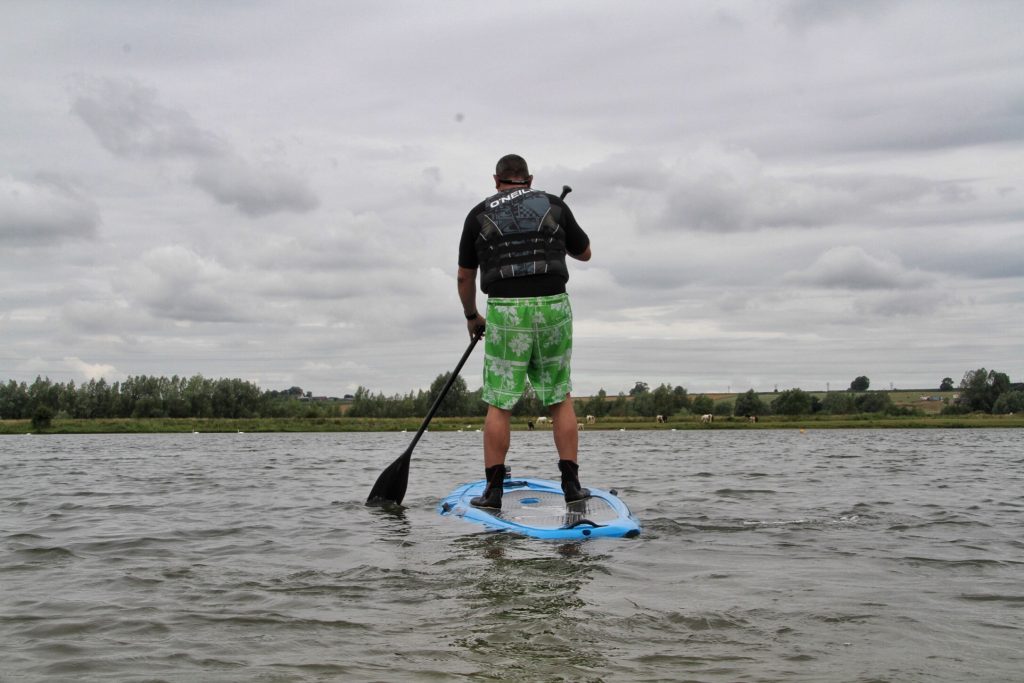 Myself at 12.8 stone and my brother at 16.8 stone had no isues on the board, it offered high levels of buoyancy all day. As you can see from the photo below, using the built in handles on either side and the moulded in handle in the centre of the deck, remonting in deep water was very easy. Simply pull yourself up on to your chest and swing your legs on to the board. At no time did I think the board was going to flip over on top of me.
The boards deck has a standard hydroturf soft rubber covering, giving good grip and comfort if being used bare foot. Moulded in to the front is a bungee storage location – Including Free MIZU water bottle suitable for any adventure. This is handie if you are going to be out on the board for a little while to store a drink etc.
In the photos you will see a GoPro carama mounted on the front for filming. We had no issues sticking a standard GoPro mount with 3M sticky pads to the board. Because of the boards construction, you could easily remove these at a later date and leave no marks or damage.
For a video of the dismount and remount check out my Instagram here
Over all I couldn't see any downsides of the Fatyak Samos, Its reasonable priced and very well made. All I can say is get out on the water on a SUP board this summer! It's great fun and I'm now hooked. Go and check it out now at https://fatyak-kayaks.co.uk