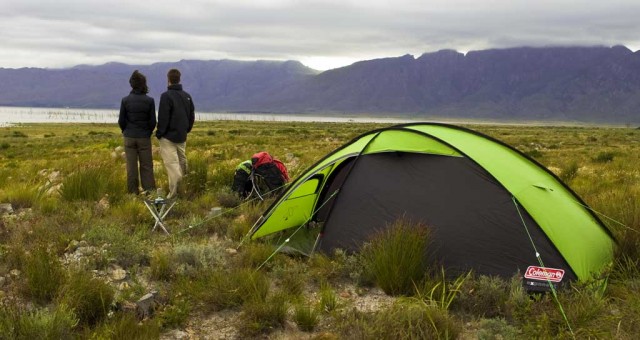 Essential tips for your first-time wild camping
Photo above from Coleman Tents.
Camping wild is something everyone should experience in my eyes, however there are some very simple gold rules to remember. Here are my top tips for wild camping to that you have a great trip and a wonderful nights sleep under the stars.
1 Where in the countryside are you allowed to wild camp in the UK?
Scotland is the only location where you can legally camp in the wild. England, Wales and Northern Ireland you need to ask the landowner's permission. However in many hills areas such as the Lake District, wild camping away from roads and not on cultivated land is tolerated. More information on Lake District camping here
As I said wild camping in Scotland is fine as long as you follow the Outdoor Access Code available here outdooraccess-scotland.com. The basic rules are common sense really, leave no trace (rubbish, fire etc) and don't disturb people or animals. You should respect the area by camping late in the day and move on early the next morning and you're less likely to encounter problems from farmers etc. Respect others privacy, especally locals by camping out of sight of buildings and roads, choosing an on open rather than enclosed campsite is best too.
In the south of England, there is one exception, Dartmoor National Park. Here wild camping is allowed for one or two nights on open land. You can find the full guide to Dartmoor Camping here: Dartmoor Camping Wild Guide
2 What do you need?
It's easy to pack too much when wild camping and hiking. The necessities are a tent or other form of shelter; sleeping bag, sleeping mat, cooking equipment (stove, pot, spoon), food, water bottle, torch and rucksack. Make sure you buy lightweight equipment, all this gear should all be light and compact as you'll have to pack and carry it. Normal walking clothing and boots are adequate in the UK, with perhaps an extra warm top for chilly evenings and mornings. The wheather in Scotland and even Dartmoor can be very unpredictable, even mist of fog can really effect the temperatures. I very rarely do any kind of long distances walking without packing at least a simple compact set of waterproofs, top and trousers. The UK wheather men seam to struggle to get the forcast right and mother nature always throws a supprise in to the mix.
The other items I would always carry are, first aid kit, and these days some means of charging a mobile phone either a backup battery, solar panel or heat exchanger cooker that generates power.
I recently came across BioLight CampStoves. These are highly efficient wood burning stoves for cooking but also convert heat in the eletrical power via a standard USB port for charging a mobile phone or other devices. It also means you don't need to carry spare gas. The cheapest place for these is ebay – Biolight Stoves
3 Where to pitch your tent in the wild?
Always try and find a flat, dry and sheltered location. Being near water is handy but this isn't essential. Of course we all want to camp with a great view but I'd go for the other criteria first! Being comfortable is important and means a good nights sleep. I would recommend camping away from footpaths if possible and away from any other tents should there be any in the area. This prevents you disturb people – and they wont disturb you.
4 The important 'dos and don'ts' in the wild.

You should not altered the land in any way for a camp site, other them clear twigs and maybe small stones. The idea is to have minimum impact on the ground, animals live under rocks, logs etc so don't move them. If you do move any twigs or stones, scatter these back over the campsite location when you leave. You want to leave the site the same way you found it, natural and wild. Try can camp on shorter grass etc as this leaves less impact then flattening longer grass and vegetation.
If you pitch your tent properly and choose a good site and have good pegs, putting rocks on the pegs shouldn't be necessary. If you do move any rocks back where they came from when you leave.
Ensure that nothing is left behind. Check the campsite once you are packed for small items of gear and bits of litter. When you walk away a short distance, look back and it should be impossible to tell where you have been.
5 Can I light a fire in the wild?
Carrying a good camping stove means you shouldn't need to light a camp fire. I know it remantic etc but if you do need to, you should only in places where you can without leaving a trace. Also make sure there is no chance of starting a wild fire. Finally only do so if it's allowed!
Never build a fire on dead or alive vegetation. Never surround a fire with a ring of rocks and these hold heat long after you have left and may restart a fire. Fires can be built on gravel or sand, like beaches or beside rivers where the water level has dropped. Make sure all wood is burnt to a fine ash then scattered when you leave.
6 Drinking and washing

Make sure water sources are running water for drinking and washing and use biodegradable soap if washing in a stream etc.