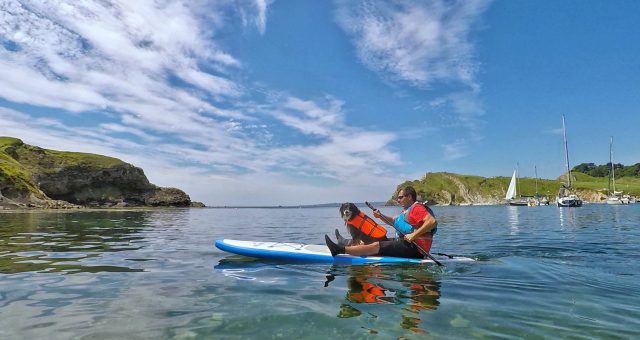 Bluefin Cruise 10'8" SUP Board + Dog
I was excited to see the Bluefin Cruise 10'8" delivered (board on the left in the photo below). I had chosen this brand of SUP board after by own research and knowing they were a British company. The Cruise range is Bluefin's entry-level all around inflatable SUP board. The kit includes everything that you'd need for a great SUP boarding day on the water.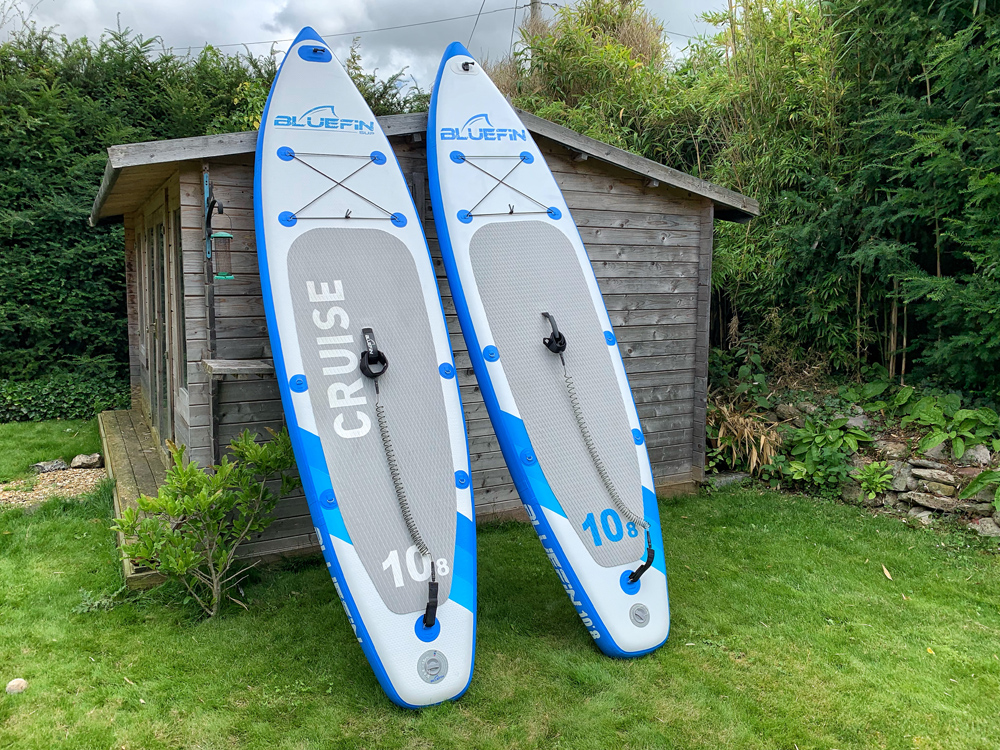 The board is constructed from a dual-layer drop-stitched hull, a comfortable thick deckpad with a quality kick-tail. included in the kit is a 2in1 paddle, 3 tubed (2 with blades, and one with SUP paddle handle) allows you to setup the board for SUP baording or by fitting the included seat back, it allows for kayak conversion. You'll also be getting a 5-year warranty.
Before I go further, I was so impressed with the first Bluefin SUP board that I purchased a second one, this was ex demo, factory direct, pictured on the right in the photo above and below. This came at a reduced price and they offer them from time to time on their website, but they sell quickly! It was a little dirty when it arrived, however after an hour of soap and scubbing, if was perfect!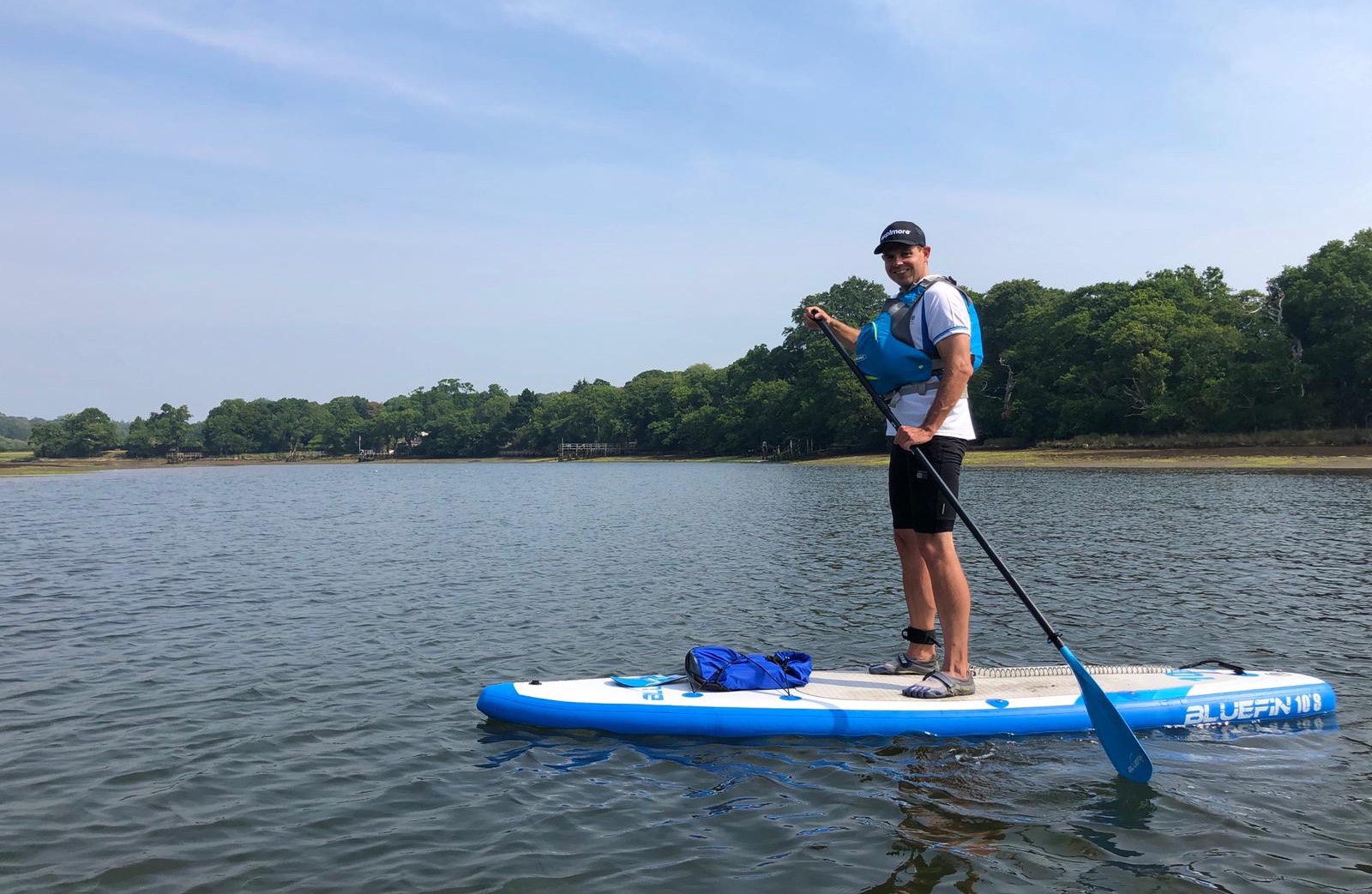 The Cruise 10'8′ by Bluefin I've grown to love, I think it's a great board for those who'd like a SUP that looks great, performs well, and comes loaded with high quality features and is childs play to setup and get on the water quickly. The Cruise 10'8" even comes standard with a kayak conversion kit and good quality rucksack to carry it all on down to your favourite beach. With a max weight capacity of 286 lbs (130 Kg or 20.4 st), this can fit a good-sized rider, plus a ruck sack and picnic goods, or even take your dog like mine above. The board is at home on calm lakes as it is in some minor ocean surf.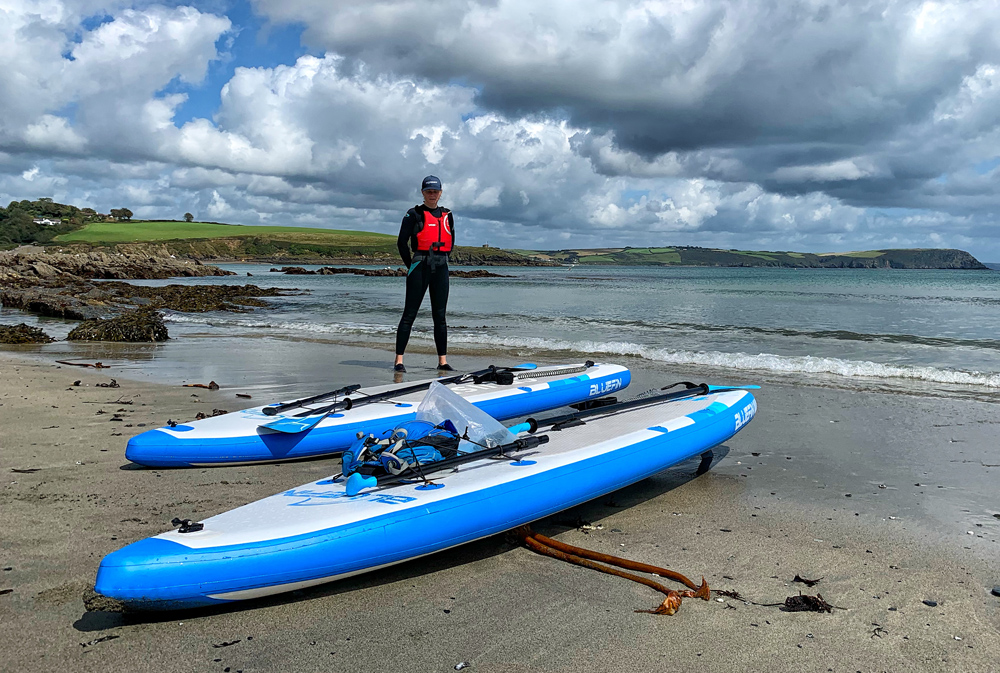 Upon unpacking the Bluefin Cruise I was instantly impressed by the quality for the price (£450 at time of my purchase). You can tell that Bluefin have taken their time to find and use the best materials available.
The Cruise is a dual-layer design made with military-grade PVC. The sides are reinforced with two additional layers of PVC to help with board rigidity and durability. It also has a reinforced composite drop-stitch layer, a premium grade plunger valve, and a high-quality UV resistant coating, which will keep it safe from the sun on your many trips. The boards really do look and feel durability and will last the test of time. You need to remember I've already purchased these boards, I'm not being nice because they have been given to me for free.
Specs:
| | |
| --- | --- |
| Length | 10'8" (83.5cm) |
| Thickness | 6.3" (16cm) |
| Weight | 25 lbs (11.3 Kg) |
| Weight Capacity | 286 lbs (130 Kg) |
| Recommended Inflation | 15 – 18 PSI |
| Fin | Smart Lock Fin System |
| Action mount | Yes |
| Pump Type | Dual-action, single chamber |
| Drop-stitch Density | 11200 m2 |
| Paddle Type | Fiberglass |
| PVC Layers | Dual |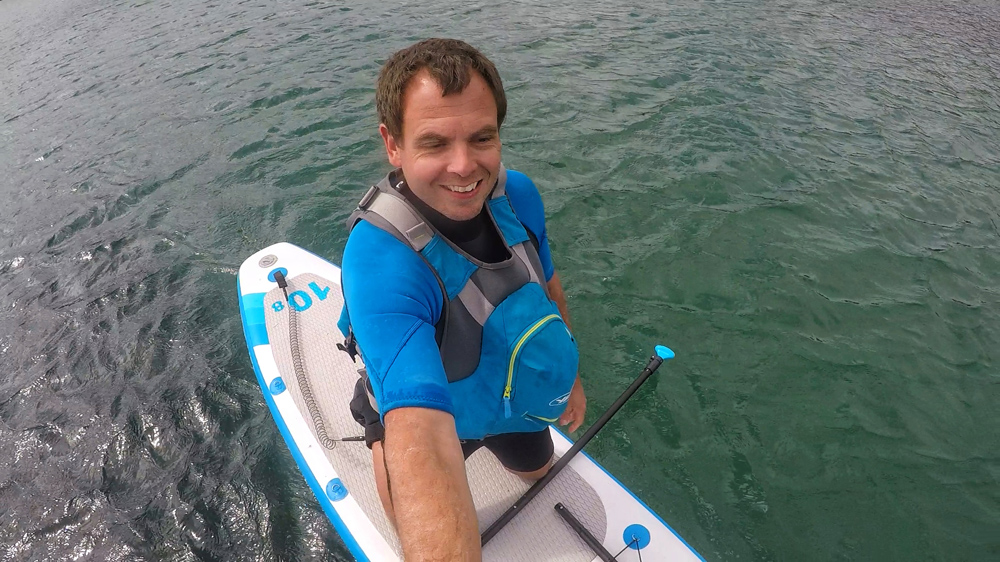 The Bluefin Cruise 10'8" is a very stable board, It handles any turns, pivots, and balance tests that we thrown at it. The maneuverability of this board is excellent, from day one we found it so easy to move and turn. We could get it to turn very easily, and for an all-around board, it actually felt more on the sporty side, which is hard to do. Having a pointed nose really allows the board to cut through the water with less resistance.
The Cruise tracks and glides very well. It is great for paddling both short and long distances. It worked well for us on the sea jumping between coves in Cornwall and I can see that it would do great on lakes. I would like to see in addition to the larger, removable fins are also removable and slightly larger side fins. This moulded, glued on fins are small and a pain when rolling up and packing the SUP in the bag.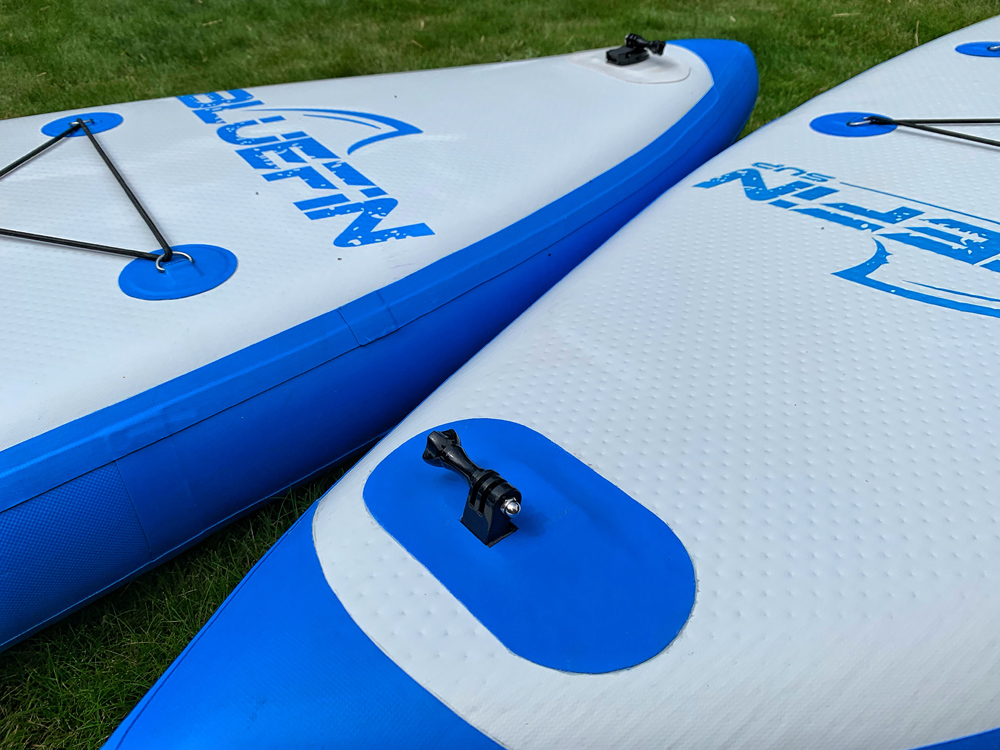 The boards come with a repair kit, which includes coloured repair PVC patches and glue. I made my own GoPro mounts using a couple of patches as can be seen in the photo above.
Another great feature is the Croco-Diamond Deckpad with a kicktail. At first glance, this deckpad looks cool, and when wet it still provided excellent traction. The kicktail is a great feature to include and makes back fin turns easier and more comfortable.
The middle handle has a builtin sheath that doubles as a paddle carrier. That handle is a lifesaver when you have a long trek to the beach from the carpark. The board is light and the handle perfectly balanced in the center, so carrying the board under one arm is easy.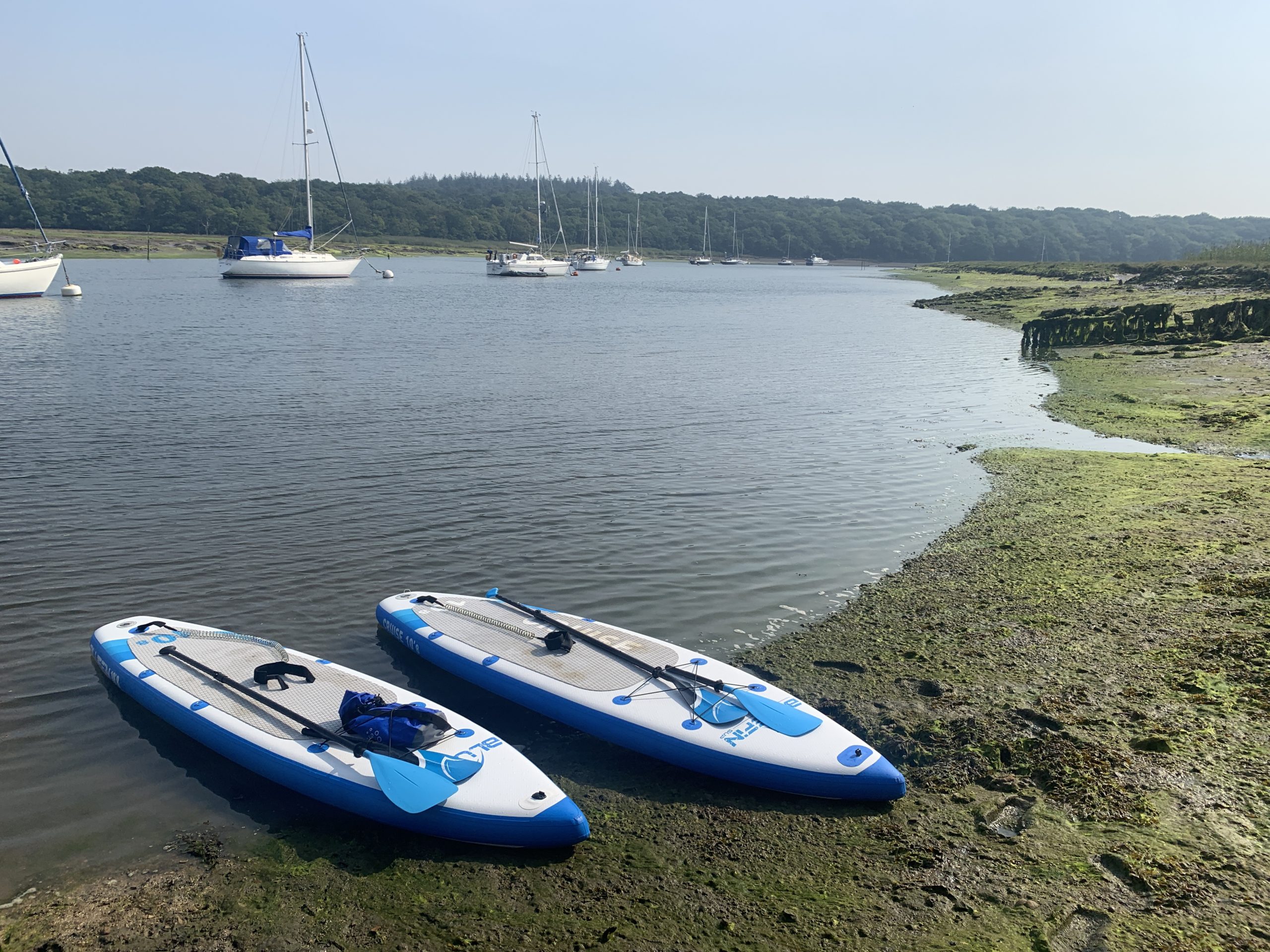 The Bluefin Cruise has plenty of D-rings to hold down your gear. Four of them are used on the front to connect bungee for a cargo area. The other five D-rings are free to use for anything you want and are also used when the board is setup for kayaking to hold the seat in place.
Bluefin inclueds a pump which is single chamber, dual-action with a built-in pressure gauge. It has a really smooth action while pumping. Pumping up the Cruise took around 10 minutes. Another great feature of the pump is its ability to convert from a dual-action to a single action.
The Bluefin Cruise 10'8" includes a coiled ankle leash with a neoprene velcro end that helps you remove it quickly and easily.
Warranty……. Bluefin stands behind their products with a 5-year warranty. This is awesome because its about 3 years longer than most SUP board companies, even the big brands. This really does feel you with confidence about where you are spending your money.
This board is great for beginners who find themselves below the max weight capacity and for intermediate users who want a more sporty SUP. You rally will not be disappointed in the quality. Bluefin have made an extremely durable board at a good price point. It also comes with some great accessories, including a kayak kit right out of the box. I would happily recommend Bluefin to anyone! Even my dog loves it and will happily sit and walk about all day long.